Dusit Hotels and Resorts is set to shine at the 67th Thai Tiew Thai travel fair in Bangkok's Queen Sirikit National Convention Center. Expect a range of deals on accommodations, dining, and wellness experiences across their esteemed properties in Thailand and abroad.
From August 24 to 27, 2023, as well as through Dusit's official website, dusit.com, until September 3, 2023, visitors can take advantage of Dusit's offerings. These include remarkable savings on bed and breakfast options at various Dusit Hotels and Resorts across Japan, Nepal, Thailand, and the Maldives, with starting prices as low as THB 1,990 per night.
Travelers can also book exclusive packages packed with added benefits.
For instance, the 'Family Paradise' package at Dusit Thani Hua Hin offers a two-night stay with breakfast, a one-time dinner, room upgrade to a Premium Ocean View room, and more, starting at THB 7,590. The 'Discover Your Dream Destination' package at Dusit Thani Maldives starts at THB 104,990 and includes a three-night, all-inclusive stay in a pool villa, transportation, a sunset cruise, spa discounts, and daily recreational activities.
In addition to these, recently opened and upcoming hotels like dusitD2 Samyan Bangkok, ASAI Bangkok Sathorn, Dusit Princess Kathmandu, Dusit Thani Himalayan Resort Dhulikhel, ASAI Kyoto Shijo, and Dusit Thani Kyoto are offering special room rates for Thai Tiew Thai attendees.
The offers are not limited to immediate stays; travellers can secure e-vouchers for future bookings until March 31, 2024. Dining and wellness vouchers are also available for THB 990, providing THB 1,300 credit to be enjoyed at selected hotels across Thailand, including restaurants like Nómada Pool Lounge, Thien Duong Vietnamese Restaurant, and Dusit Gourmet coffee shop at Baan Dusit Thani in Bangkok.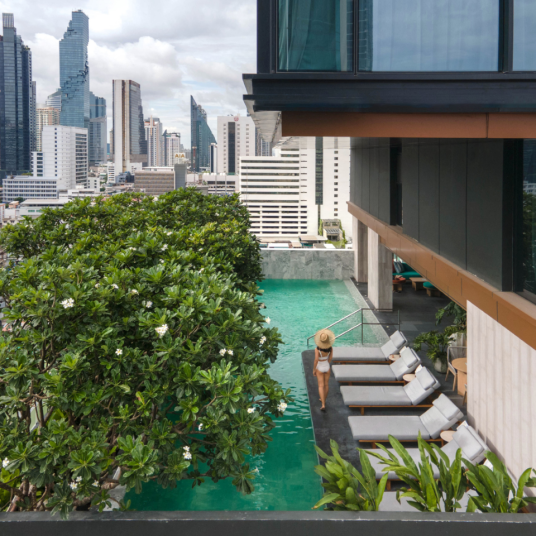 Adding to the delight, Dusit's renowned handcrafted mooncakes are featured during Thai Tiew Thai, with a box of six pieces priced at THB 1,190. These exquisite offerings come in decorative boxes adorned with golden rabbits, reflecting the Chinese zodiac, and feature delectable fillings such as durian, mixed nuts, jujube, custard, lotus seeds, and vanilla pistachio.
These special offers are exclusively available to members of Dusit's guest recognition program, Dusit Gold, which offers free enrolment through dusit.com/signup.
For more details about these offers, attendees can visit Dusit's official stand at Queen Sirikit National Convention Center (Exhibition Hall 5-6, Level LG/ Booth number: E07 – 08, E51 – 52) from August 24 to 27, 2023, or visit dusit.com.